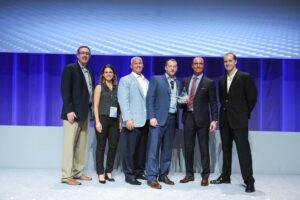 Cincinnati, Ohio
 – 
October 20, 2016 – Government Acquisitions, Inc. (GAI), a leading Federal Information Technology (IT) solutions provider and small business, today announced it has been named a winner in Dell EMC's 2016 Partner of the Year Awards. The annual awards honor Dell EMC channel partners for delivering commendable solutions for their customers and were presented at the Dell EMC Global Partner Summit in Austin, TX, on October 18, 2016. Award winners are selected from a group of nominations based on their dedicated use of Dell EMC technologies to provide solutions for their customers' needs. "We are extremely proud to be named the 2016 Dell EMC Federal Partner of the year" said Jay Lambke, President, GAI.  "The outstanding partnership between GAI and Dell EMC allows us to deliver market leading technology solutions focused on supporting the critical missions of our Federal customers." "We congratulate Government Acquisitions, Inc. on receiving Dell EMC's 2016 Federal Partner of the Year Award, which recognizes partners that have exhibited an exemplary commitment to Dell EMC and our joint customers throughout the year," said John Byrne, President, Global Channels, Dell EMC. "Dell EMC's partners are an important part of the Dell EMC sales force and provide our joint customers deep technology and consulting expertise on their Digital Transformation journey." As a Dell EMC Premier Partner, GAI gains expertise in hardware, software and services that help eliminate IT complexity for customers and help create greater efficiencies. Through its partner program, Dell EMC offers partners like GAI greater value and choice to their customers, while rewarding investment in key Dell EMC solutions that will help drive business growth. Resources provided to Partners include:
Rewards for education and training
Rebates for Premier Partners
Expanded deal registration terms
Financial incentives
Marketing and technical assistance
About Government Acquisitions, Inc.
GAI is a Federal IT solutions provider with more than 25 years of dedication to Federal mission success, and a performance culture to power real innovation. A mission mindset is in our DNA. We understand that success is driven by partnership, process, and technology. GAI's experienced team members work side-by-side with Federal IT executives and industry-leading OEM partners to modernize, optimize, and deliver unparalleled mission support. To learn more, visit www.gov-acq.com or call (513) 721-8700.