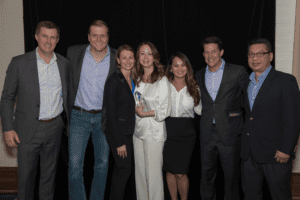 GAI wins Intel Partner of the Year award for HyperCAP (Hyper Converged Analytics Platform) Solution
Cincinnati, OH
–
April 5, 2018
– Government Acquisitions, Inc. (GAI)
https://gov-acq.com/
, today announced that it received the Intel® Technology Partner award for Public Sector Solution. GAI was honored for its work in developing the HyperCAP (HyperConverged Analytics Platform) solution that uses Intel technologies. The award was presented at the 2018 Intel Partner Connect conference in Washington, D.C. HyperCAP is a cutting-edge cyber solution. Integrating and optimizing technologies from Intel, including the
Intel® Xeon® Processor D-1541
and Intel Network Interface Cards (NICs), and DellEMC, Nutanix, and Splunk, the HyperCAP solution provides agencies with a fully-validated end-to-end data analytics solution for IT and security operations by:
Performing network forensics and Advanced Persistent Threat (APT) analysis
Identifying privileged accounts and executing compliance monitoring
Obtaining holistic views of agency security posture and network hygiene
Investigating and responding to threat alerts and trends
Determining malware impact across agencies
Providing cyber forensic analysis for incident responders
"We are honored to win the 2017 Intel Partner of the Year award," said Jay Lambke, President, at Government Acquisitions, Inc. "Our work with Intel and our HyperCAP solution have helped many agencies in the federal government in use cases varying from Cyber Security to IT Operations."
"Intel appreciates the work that GAI has done in finding new and innovative ways to use Intel technology to improve cyber solutions for the public sector," said Jason Kimrey, General Manager, U.S. Channel Scale and Partners at Intel. "We congratulate them on their successes and look forward to our continued collaboration." For additional details about GAI, please visit
https://gov-acq.com/
for more information.
 ABOUT
GAI
GAI is a Federal IT solutions provider with more than 25 years of dedication to Federal mission success, and a performance culture to power real innovation. A mission mindset is in our DNA. We understand that success is driven by partnership, process, and technology. GAI's experienced team members work side-by-side with Federal IT executives and industry-leading OEM partners to modernize, optimize, and deliver unparalleled mission support. To learn more, visit
https://gov-acq.com
or call (513) 721-8700.